Marriage License in Honolulu, Hawaii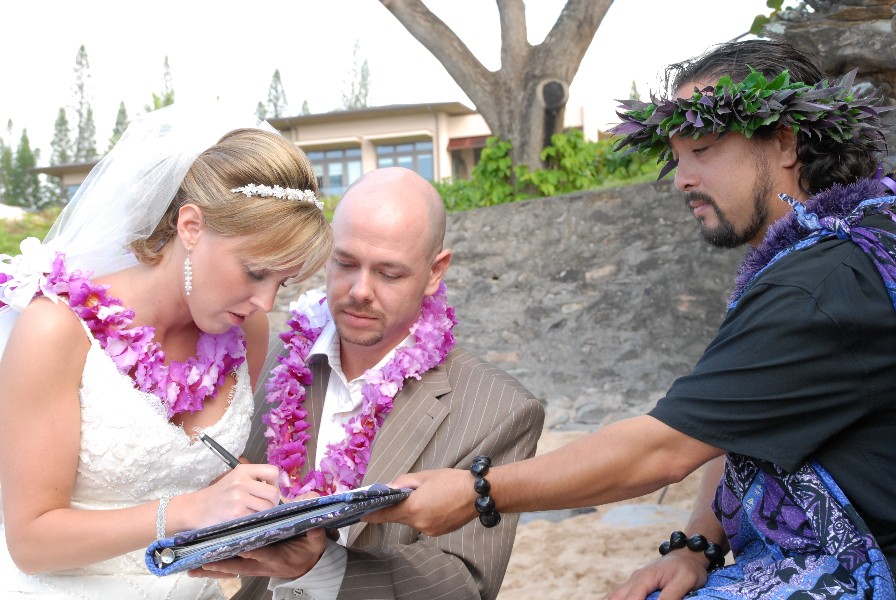 To get married in Hawaii, a Marriage License must be received from the Department of Health before the Wedding. No blood tests (or divorce records) are required, only valid photo ID's and $60 cash (or $65 online payment).*
*Important: If you are under 19 years old, please bring your Birth Certificate and a Photo ID as proof of legal age to marry. If you have been divorced less than two months, please bring your Divorce decree.
Single persons 18 years of age and above may marry without parental consent. Wedding packages do not include a Marriage License, which can only be obtained by the Bride & Groom by appearing in person together at the Dept. of Health.
No assistance is necessary to get a Marriage License, just a simple one-page Application form (which only the Bride & Groom know the answers).
Now you can expedite your application process and apply for your Marriage License online at:
Marriage Application Online
https://marriage.ehawaii.gov
Once you have filled out your online Marriage License Application and $65.00 online payment, just visit the Dept. of Health to pick up your MARRIAGE LICENSE. Bring your ID's with you when you go.
Escorted transportation from Waikiki to the Honolulu Department of Health is available from Bridal Dream Wedding Company for $90.00.
Visit the Department of Health in Honolulu, or call one of their Agents on weekends & holidays.
MARRIAGE LICENSE OFFICE
1250 Punchbowl St.
Honolulu, Hawaii 96813
(808) 586-4544
On weekends, contact a Health Dept. Agent for an appointment.
Call Sherilynn at (808) 523-1880,
or Fusako at (808) 455-1186.
Visit the Marriage License Office online at: http://www.hawaii.gov/doh/records/vr_marri.html
Please take note of three important terms and their meanings:
- Marriage License Application: A one-page form you must fill out and bring to the Department of Health (or Health Dept. Agent), along with your ID's and $60.00 processing fee (cash only), to receive your Marriage License.
- Marriage License: The Dept. of Health will give you a MARRIAGE LICENSE, which you need in order to get married in Hawaii. Bring that with you for the Minister to sign at your Wedding.
- Marriage Certificate: The Dept. of Health will mail you your official MARRIAGE CERTIFICATE after they process your Marriage License (signed by the Minister) following your Wedding.
Your official Marriage Certificate will take a few months to arrive by mail. You may order an official Marriage Record by filling out the "Green Form" (Marriage Records Request). The copy arrives faster than the original. The cost is $10.00 (money order when ordering by mail, or cash in person).
*Please do not confuse your official MARRIAGE CERTIFICATE (from the State of Hawaii) with your souvenir Framed Wedding Certificate from Bridal Dream Wedding Company.
The Hawaii Dept. of Health is open from 8:00am to 3:00pm.
Bring your IDs with you, and the $60.00 fee (cash only) or pay $65.00 online.
After you receive your Marriage License, bring it with you to the Wedding Ceremony. The Minister will sign it after your Ceremony. Then he process your Marriage License information online.
In a few days, you can use the WEDDING LOCATOR ID# to access your Marriage Records and print out an official Certificate. The original certificate will take a few months to arrive by mail.
Escort and round-trip Transportation to the Marriage License Office is available for $90.00 at BRIDAL DREAM HAWAII.
Marriage Licenses are issued to U.S. citizens and those from foreign countries regardless of your nationality. If you are coming from outside the USA, please contact your local authorities with any questions you may have about foreign marriages performed in the USA.
If you need a Wedding Minister, visit:
HAWAII WEDDING MINISTERS
If you should lose your Marriage License before the wedding (or forget to apply for one) you will need to apply for a new Marriage License. Be sure to sign the date of the wedding as no earlier than the date you received your Marriage License. Ceremonies held before the date of the Marriage License are not recognized.
For Wedding Permits on State Beaches, see:
BEACH PERMITS
---

Bridal Dream Hawaii
Weddings in Honolulu
Office: (808)924-3600
Cell: (808)772-1140
Fax: (808)356-0806
email@bridaldreamhawaii.com